read
Two situational ironies of the day:
First, Rich dad went bankrupt:
The financial guru behind New York Times bestseller Rich Dad, Poor Dad has filed for bankruptcy on one of his companies after losing a $24 million judgement.
Oops.
And second, recent Noble Prize winner, John Gurdon's idea of becoming scientist was deemed ridiculous by his teacher.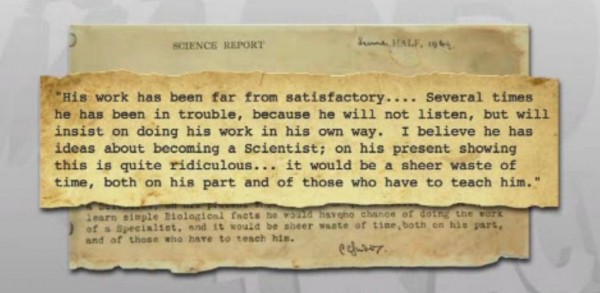 An excerpt from his 1949 high school report card:
His work has been far from satisfactory…. Several times he has been in trouble, because he will not listen, but will insist on doing his work in his own way. I believe he has ideas about becoming a Scientist; on his present showing this is quite ridiculous… it would be a sheer waste of time, both on his part and of those who have to teach him.
Oops.
Guess Forrest Gump was right.